The following freestyle dance moves will teach you how to freestyle dance to any popular song or beat. Free style dancing is very interpretative. However, it is a good idea to learn some fundamental steps to start with before you can really personalize it and add your styling to it. The most important thing is to keep a base timing and tempo.
1st Freestyle Dance Move: Simple moves for party dancing
in this video the dancer explains how to use a very simple move to freestyle dance at any party or club.

---
Want more? Get the full course: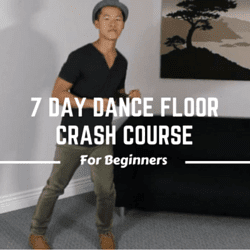 7 Day Dance Floor Crash Course – For beginners
Learn how to dance easily with moves that you can use at clubs, parties and weddings. This course is perfect for absolute beginners who want to look "natural" on the dance floor. This video course has 7 modules with +3 hours of video instruction. Delivered through instant downloads.
Learn more & Buy it here (Click here)
---
2nd Freestyle Dance Move: Step touch variation
Step touch is one of the most iconic and simple dance moves out there. In this video Brian shows you how to do a variation of that same step that you can use when dancing freestyle.

---
Want more? Get the full 7-Day Dance Floor Crash Course:
Buy it here (Click here)
---
3rd Freestyling dance video lesson – Robot dance:
In this freestyle video lesson you will learn how to do cool robot moves – using popping and locking technique. The key is to do simple everyday things in a "robotic" way. Impress your friends with your new moves:

Want more? Get the full Course: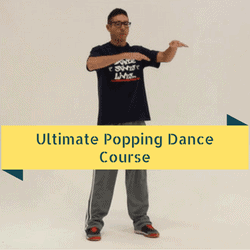 The Ultimate Popping Dance Course (Beginner to Advanced)
Learn how to dance popping and locking with step by step video lessons. You will learn hits/popping, waving, robotics, gliding, vibrating, slow motion effects and more. Become the freestyler you always wanted to be and impress your friends with your dance moves. Includes 3+ hours of video lessons. You can download it instantly or stream it online here.
Learn more & Buy it here (Click here)


---
How to freestyle dance tips:
1. Find the beat of the song first. Once you found the beat, just start nodding your head to it or stomp your foot to it. From there you can add moves.
2. Don't be afraid to try new movements. You got try in order to learn! Try stomping to the beat, how about a wave on some part of music where it fits, it can be anything. Just give it a go.
3. Learn many different style of dancing – The more variety of dance steps you know, the more moves you will have for your free style. Learn how to dance hip hop and study some Tap dance steps to broaden your knowledge.
Did you like it? Please leave a comment below and share with your friends.
More dance lessons?
Online dance classes
Hip Hop dance videos
How to breakdance lessons
Ballroom dance steps
How to dance in parties and clubs
Ballet dance dictionary
Country dance online