Learn how to tap dance dance with the best tap lessons for beginners. You will learn everything from the beginning and your instructor will break everything down to the bone. These online Tap dance lessons are full of exercises and lots of angles to make sure you can get everything from home.
The first thing you need to learn is the technique of Tap dancing and how to use your feet, legs, torso and arms in relation to one another. Because there are lots of tap steps that are done on one foot only, you will develop great balance and coordination.
Tap dance steps online
Beginner Tap dance mini-course (3 videos):
The following are some of the most used basic Tap dance steps in Tap dancing today. They are taken directly from the Tap dance beginner bundle product. Watch them in order and try them at home.
Video #1: Toes & Heels dance lesson:
Learn the most fundamental parts of the Tap dance shoe – the toes and the heels. This absolute beginner video will show you the difference between these 2 popular tap dance steps.


Recommended Product: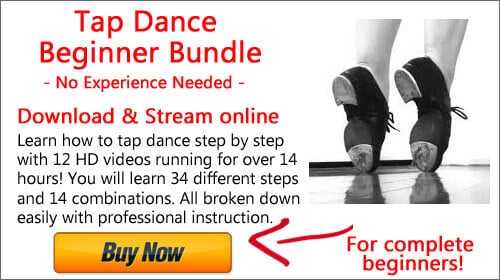 Video #2: Stamps & Stomps Tap dance steps:
Here is a great lesson showing the difference between the Stamp and Stomp steps. These two moves are very popular and are present in many combinations.

Video #3: The 'Brush' step:
You will learn the brush dance step in this video. This is a more difficult step that requires more technique so don't worry if you don't get it right away. Practice, practice, practice!


Recommended Product: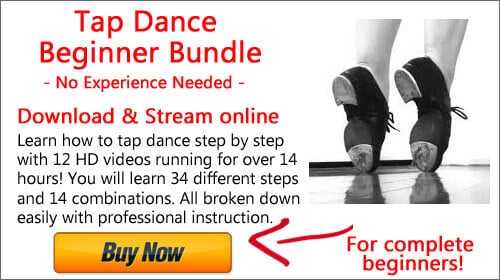 Extra Tap dancing Tips
1. Buy Tap dance shoes – If you are serious about learning how to Tap dance you need to get the proper shoes. It will speed up your learning progress and give you the real feeling right away.
2. Master the Rhythm of your moves – Tap dancing is one of the most rhythmical styles of dance so you need to make sure you hone down the timing of every single move you are learning. Without timing, your technique won't improve.
3. Find fluidity in your ankles – The key is to make dancing look fun and easy. Therefore, it is important that you don't keep your ankles and knees locked up. You need to relax them and let them be free in order to tap dance.
We hope you enjoyed this free beginner series on how to tap dance. Please leave a comment below if you liked these videos. To learn other dance styles visit our online dance lessons page.