Learn to dance to dubstep for beginners
Download & Stream it now


Watch a trailer from this video tutorial:

Learn popping dance moves for dubstep
Did you know that dubstep dance is actually a form of popping dance style?
Yes that's right! You will learn the most important popping dance moves which are used to express the awesome music of dubstep. From extreme robotics, moving in slow motion, warping, and vibrating to hit those wicked build ups to the drops. Learn everything you need to know to become an awesome freestyler in this dubstep dance tutorial.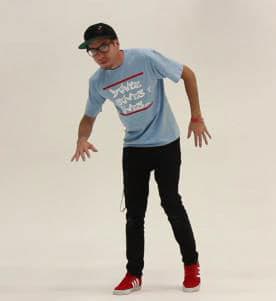 – Learn how to dance popping to dubstep easily!
– For beginners (no experience needed)
– Download the tutorial and stream it online at anytime.
– 30-Day money back guarantee.
– Get instant access.
– Impress your friends with your new moves!
– Learn techniques to express dubstep music.
– Learn from "El Tiro" – professional dance instructor.
Only $25.00


Includes

Stream this tutorial online – Available 24/7
You can watch this lesson online from anywhere, at anytime. Even at night when everyone is sleeping… Just log in and watch.
---

Download this tutorial
Don't have a fast internet connection? No worries, you can download the video to your PC, ipod or ipad.
---

Compatible with all devices
You can watch the video on all the popular devices like pc, mac, ipad, iphone or ipod.
---

30-day money back guarantee
If you are not 100% satisfied we will refund your full payment amount within 30 days. Just email me at [email protected] and I will issue the refund.
Only $25.00


Start learning in 30 Seconds! Get instant access right away.
Right after payment you will be sent a username and password to your email.
For any questions just email us at [email protected].