Learn how to do Chest Pop – This a quick move you can implement into your routine anywhere. Here you will contract your chest and then "pop" it out very fast to make it look as if it does it on its own.

Want more? Get the full course: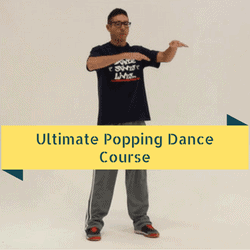 The Ultimate Popping Dance Course (Beginner to Advanced)
Learn how to dance popping and locking with step by step video lessons. You will learn hits/popping, waving, robotics, gliding, vibrating, slow motion effects and more. Become the freestyler you always wanted to be and impress your friends with your dance moves. Includes 3+ hours of video lessons. You can download it instantly or stream it online here.
Learn more & Buy it here (Click here)


---
Transcript of Chest Pop video:
Hi, I'm Keith Fitzpatrick, this is easy to learn hip-hop and we're going to go over our chest pop. So this is a really easy step, or movement. You're going to start with your chest and a lot of times you can just do it with your hand where you're kind of bringing your hand, it's making your chest kind of go out with it, but it's going to be really quick, you just want to kind of hit, boom.
So it kind of starts here in your shoulders and you're kind of pushing back to make your chest come forward. So, that's something you can do either way, boom. And a lot of times, you'll see that you'll have your hand here and you'll kind of bring your chest, but you want it to start and stop, you always with anything that has a pop, you want to have a start, and to have a stop.
So, it'll start here, you'll come to a stop and go back, boom, but it's really quick, either way, boom. And you can actually kind of change your direction with that pop, if you want to pop and go that way, and then go that way, you can do that too, but you just want to make sure that each one comes to a stop, and not a long stop, you don't want it to be a roll, because we're going to go over that later, but it's a pop, boom, boom.
And it's the chest pop is something you can incorporate into a lot of other things, just like with the tutting that we we're doing in the last one. If you're tutting and you're popping with your chest, boom, boom, that's something you can incorporate into that. So just start flat, push your shoulders back, and push your chest out. Control to the side, just slide, and that's your chest pop.