The 3 free beginner Rumba dance steps below will give you a great foundation to get started with this dance. Each video will break down everything you need to master it. Pay a special attention to the end where the teacher, Leon gives lots of useful Technique tips.
FREE Beginner Rumba dance Video Course:
Introduction to the timing of Rumba:
First of all, before you can dance you need to understand how to count the Rumba. The way you count it is "Slow, Quick, Quick" – Where the Slow gets 2 beats and each Quick is 1 beat. Make sure to hold the slows to ensure that you stay on time with the music and your partner.
Rumba Lesson #1: The Box Step:
This is the basic step that most dancers use in order to get in and out of Rumba moves. Imagine you have a box in front of you, now just step on the corners of the box. Make sure you change weight every time.



---
Want more? Buy the full
Social Dancing Crash Course Here
---
Rumba Lesson #2: The side basic step:
This is the most basic step of the Rumba. It consists of 6 steps total. Start by stepping to the side and then bring the leg to close and then make 2 changes of weight in place. Repeat on the other side.



Rumba Lesson #3: Crossover breaks:
This move is a really fancy one and it opens things up quite a bit. In this step both partner will open up to right and left and extend their arms to create a "crossover" Rumba step. You can easily get into this move from the box step you learned above. Have fun with it!

Want more Rumba & Ballroom dance basics? Get:


---
Social dancing crash course – Ballroom dancing for absolute beginners
Stop looking foolish on the floor and get the confidence you need to dance with any partner at weddings, parties and social events. In this course you will learn the basic steps of 3 popular Ballroom dances including:
Rumba
,
Swing
and
Waltz
. Learn individual moves and combinations with ease. Watch it online on any device.
Learn more & Buy it here (Click here)
---
Go beyond the basics with: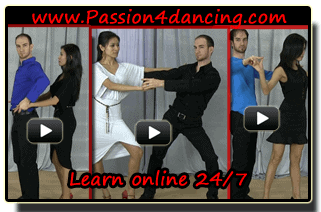 Passion4dancing membership
For those who want the very best Latin and Ballroom dance instruction, you need to check out Passion4dancing.com where you can get access to over 100+ video lessons. Each of the video breaks down the footwork, timing and provides extra tips. Once you become a member you will get unlimited access to everything.
—
Did you enjoy this mini-video course? If yes please share this page with your friends and leave a comment below.
Related:
How to Ballroom dance: Main Page
Social basic dance steps series
East Coast Swing dance videos
Cha Cha dance videos
Rumba dance videos
Waltz dance videos
Foxtrot dance videos