Learn to hip hop dance online with our beginner Hip Hop dance videos. They are broken down into the most major Hip Hop dance categories such as general Hip Hop moves, Breakdancing, Popping and Hip Hop moves for kids.
If you enjoy these free hip hop dance lessons online and want to speed up your learning, check out our premium dance courses.




Choose your style: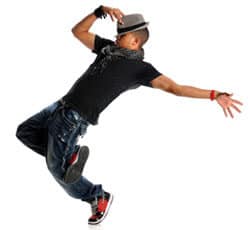 Hip hop dance moves
Learn hip hop dancing with general hip hop dance videos that would fit any popular hip hop music out there. These are moves that are done upright (as opposed to breakdancing) and require the coordination of legs, arms and torso. They include popular moves like the "two step", "how to dougie" and "arm wave". Use these hip hop moves in clubs, parties and any other social events.
How to Hip Hop Dance (Click here)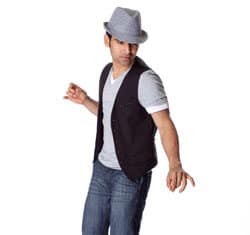 Popping dance moves
Popping and locking dance style is another hip hop style that has gained lots popularity today. It is based on the technique of quickly contracting and relaxing muscles to cause a jerk in the dancer's body, referred to as a pop or a hit. This style is perfect for those of you you who want to impress someone with sharp, robot-like movements. Popping style can be danced to many different songs but it is especially danced to dubstep music – which is electronic and perfectly fits this style.
Pop and lock dance moves (Click here)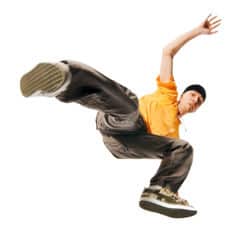 Breakdancing moves
Learn how to break dance with these step by step videos. Break dancing is believed to have been originated roughly in 1969 when James Brown's song "Get on the Good Foot" came out. People started imitating his quick, energetic footwork moves and eventually began placing more emphasis on groundwork with stylized leg movements, commonly known as "downrock". Then it developed into hand glides, freezes and head spinning. Learn break dancing moves today!
Learn how to breakdance (Click here)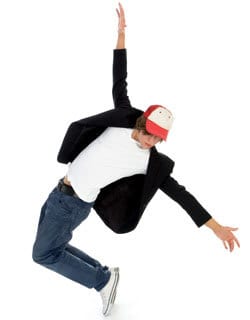 Hip Hop moves for kids
Learn hip hop dance with videos for kids in this section. While many moves fit both adults and kids, there are certain moves that will appeal to young adults. Our kids moves are a little bit simpler and easier to pick up so that you can start dancing right away. Lastly, the teaching is geared towards kids with emphasize on clean language and fun energy. Moves include "The crisscross", "The snap step" and "Toe drag". Learn kids hip hop steps from home today.
Learn Hip Hop steps for kids (Click here)




Premium Hip Hop Dance Courses (Products):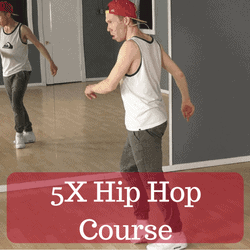 5X Hip Hop Course For Beginners
Learn basic hip hop moves with 25 step by step video lessons. This course is broken down into 5 modules that focus on different types of moves: Footwork, Upper Body, Waving, Step Touch and Iconic Moves. You will love this 2+ hours of detailed instruction for beginners.
Learn more & Buy it (Click Here)
---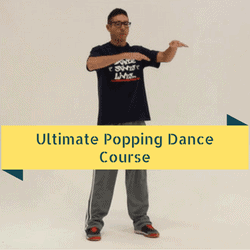 The Ultimate Popping Dance Course (Beginner to Advanced)
Learn how to dance popping and locking with step by step video lessons. You will learn hits/popping, waving, robotics, gliding, vibrating, slow motion effects and more. Become the freestyler you always wanted to be and impress your friends with your dance moves. Includes 3+ hours of video lessons. You can download it instantly or stream it online here.
Learn more & Buy it here (Click here)
---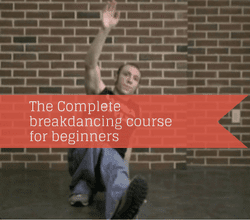 The Complete Breakdancing Course For beginners (No experience needed)
Learn simple but impressive moves step by step! You will learn footwork moves, ground moves as well as freezes. This video course has 3 modules with +3 hours of video instruction. Delivered through instant online access.
Learn more & Buy it here (Click here)
---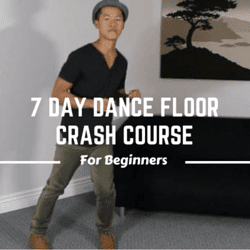 7 Day Dance Floor Crash Course – For men (Beginner)
Learn easy dance moves that you can use at clubs, parties and weddings. Instead of learning complicated routines, this course will teach you "natural" moves that look good. This video course is for complete beginners with +3 hours of video instruction. Delivered through instant downloads.
Learn more & Buy it here (Click here)








Interested in other dance styles?
Check them out:
Ballet dance terms
Ballroom dance steps
How to dance in a club
Belly dancing
Irish step dancing
Tap dance steps
Argentine Tango videos