Below you will find beginner Hip Hop dance videos. They are broken down into the most major Hip Hop categories such as Hip Hop, Breakdancing, Popping and Hip Hop moves for kids. These mini-video series are perfect for beginners who want to learn how to dance hip hop step by step. Each series covers about 3-5 Hip Hop moves. The best thing is that you can pause, rewind, fast forward at anytime.
FREE hip hop dance videos:
Hip Hop moves "Iconic" Mini-series – Learn some of the popular hip hop dance moves including the "Two Step", The "James Brown" and "How to Dougie". The 3 videos in this series will breakdown everything you need to know to master these moves and use them right away.
Hip Hop moves beginner Mini-series #1 – In this series you will learn one move at a time with slow pace. The dance moves covered are 'Chest pop', 'Punch down', and 'body roll' moves. These dance videos will give you a great foundation for Hip Hop.
Hip Hop moves beginner Mini-series #2 – In this series you will learn another 3 beginner Hip hop dance moves with step by step videos. The moves covered are 'Slide pop', 'The dip and step' and 'Kick cross step'. Each video breaks down only one move at a time.
Recommended Product: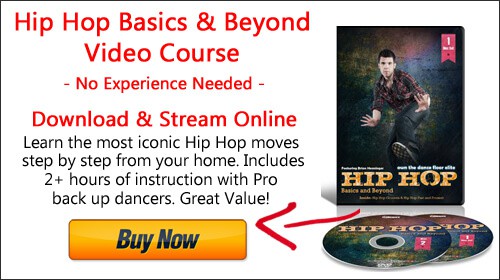 FREE Breakdancing Dance Videos:
Breakdancing Mini-Series (5 moves)- In this series you will get introduced to some of the most basic breakdancing steps. You will learn some really cool foot work moves as well as hand spins and back spins. Make sure you have plenty of space to try these moves – and remember to go slow in the beginning so you don't get hurt.
FREE Popping Dance Videos:
How to dance to dubstep (3 moves)- Dubstep is a very trendy electronic music that is perfect for popping dance style. Here you will learn 3 free lessons on how to pop to dubstep.
Popping dance Mini-Series (3 moves)- Learn the basics of how to pop. Popping is a really cool style of Hip Hop dancing because It is based on the technique of quickly contracting and relaxing muscles to cause a jerk in the dancer's body, referred to as a 'hit' or a 'pop'.
FREE Hip hop moves for kids:
Hip Hop Dance steps for kids – Watch these 4 video lessons that will teach you some awesome Hip Hop moves for kids. These lessons are a great starter for boys and girls of all ages.
Iconic Hip Hop Dance Moves:
1. How to do the Moonwalk (2 video tutorials)
5. How to walk it out – hip hop dance




How to dance hip hop better (tips):
1. It's all about attitude – Remember that Hip Hop dancing is all about "selling" the performance. Commit to each movement and be confident about everything you do.
2. Learn the basics first – the better your basics are, the better you will be able to execute the more intermediate and advanced Hip Hop moves. So don't jump the gun, instead master the fundamentals.
3. Practice, Practice, Practice – You need to hone down your skills as often as possible. Make sure to practice before every class and at your spare time in between classes. The key is to get the steps into your muscle memory.
Interested in other dance styles?
Check them out:
Ballet dance terms
Ballroom dance steps
Belly dancing
Irish step dancing
Tap dance steps
Argentine Tango videos