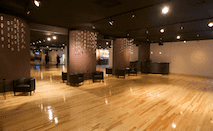 NEW! We have just added this dance studios near me directory where you can find a dance school in your area in any dance style. This will help you make a better decision of where to start dance classes.
Want to list your dance studio? Click here
You can find dance studios nearby with our studio directory below. You can search for a dance studio or just choose the dance style you want to see all the schools that are listed.
3 Tips to finding the right dance studio near me:
1. Avoid searching for very broad terms like " learn dancing". Instead choose the dance style you want to learn and then search for dance schools nearby in that style.
2. Check out the studio's website to see if they are still active. You will be able to tell almost instantly if the school you are looking at is of high quality just by the look of their website. Do they update their schedules? Do they post pictures from recent dance classes or events? If they do not, chances are they aren't for you.
3. Try out a class! You will never have all the information you need to know if the dance studio is right one for you unless you actually try it. Most dance schools have some sort of trial classes that you can start with. SO go ahead and try it out.