Fastest, Easiest Way for Men to go from.. "feeling awkward and out-of-place" on the dance floor, to being "dance floor ready".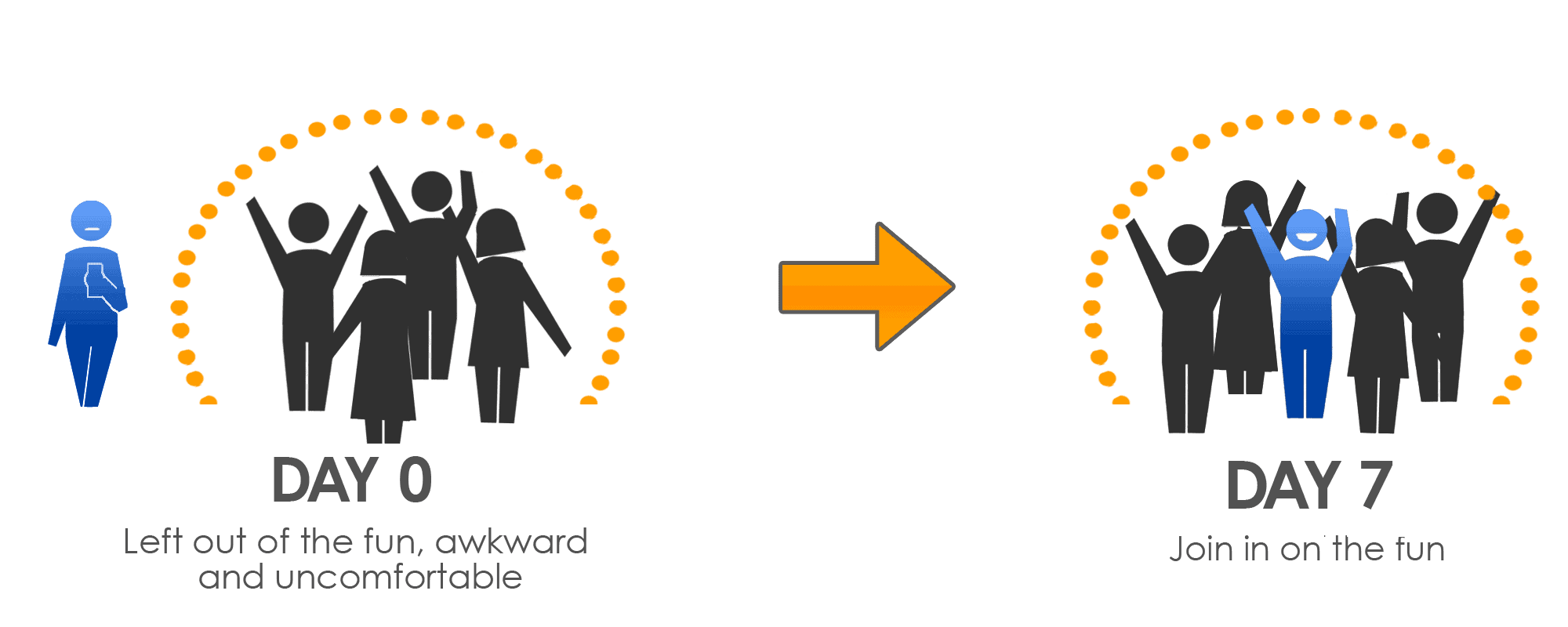 Learn about this course in this video:
Learn how to dance in the clubs, weddings, parties and social functions
The follow-as-I-do, step-by-step system for the common guy with no previous experience who wants to feel comfortable and confident at any event.
This is a downloadable video course that you can follow from the comfort of your home to become a better dancer. We recommend doing it in 7 days so you don't get overwhelmed but if you need to skip ahead that is fine too.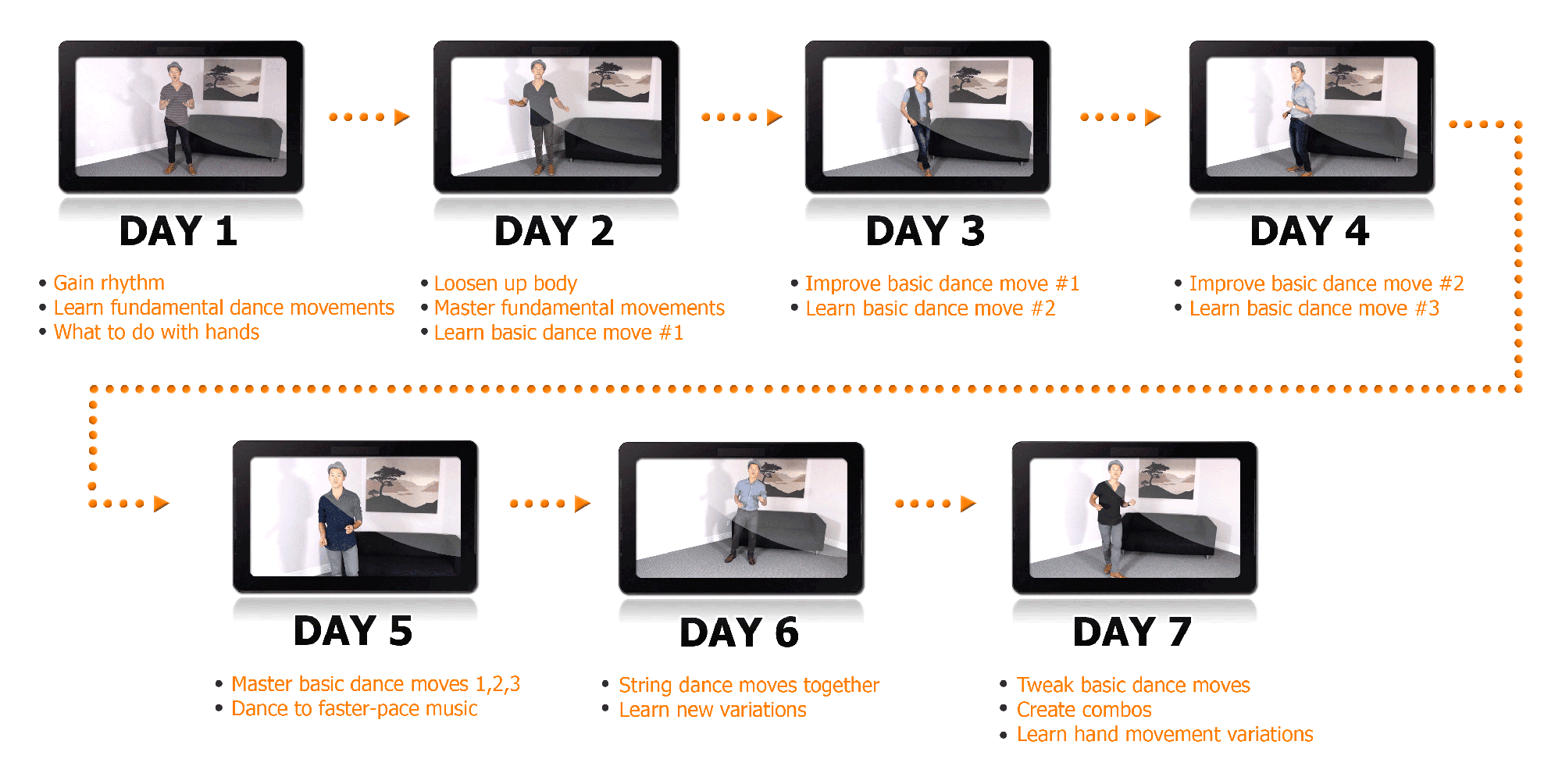 ---
Testimonial:
"Hey Brian — thanks for an incredible system. It was so refreshing to discover such a no bullshit video series that gets me from zero to hero just by following the steps.
I know you discouraged this, but I actually went through the whole series in one sitting. I had a wedding to go to yesterday (not mine), but knew there would be plenty of dancing. I have never been to a wedding before and dancing has always scared the shit out of me, which is why I don't go anywhere there is dancing.. until now 😀
Sincerely,
Dan"
---
Includes the following:
Rhythm Training
– In order to dance to the music comfortably you need to dance "on time" with the music. The entire first section is on Music/rhythhm training where Brian actually puts on different songs and shows you how to count them – in real time!
Natural dance moves – No one wants to do complicated choreographed moves when they are out and about. The key to looking good on the dance floor is to learn a few simple moves and put your own style on them. In this video course you will learn the most essential moves that fit any occasion.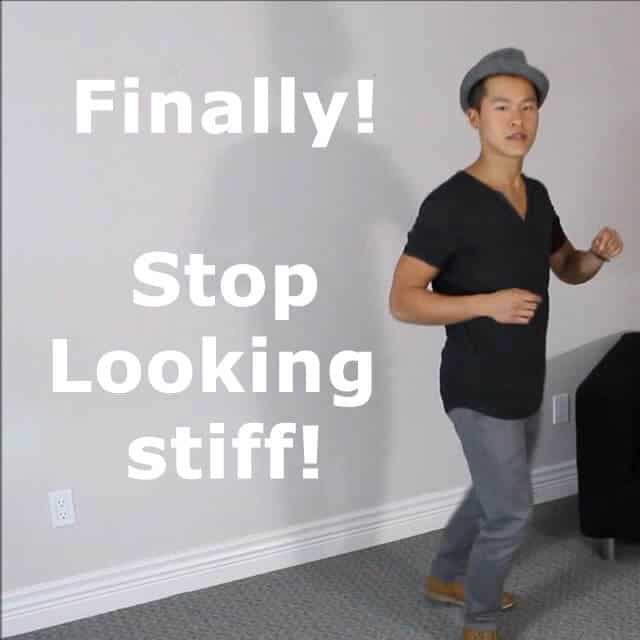 Step by Step Instruction
– Each move is broken down in great detail from the very beginning. Brian shows exactly what your legs, torso and arms are doing at every moment. All you have to do is follow him and copy him.
Practice sessions with teacher – All of the videos have Brian (the instructor) dancing and practicing the moves together with you! He does all of the moves with you and also incorporates tons of practice time to the "counts" and "to music" where he does all the moves with you so that you stay motivated through out!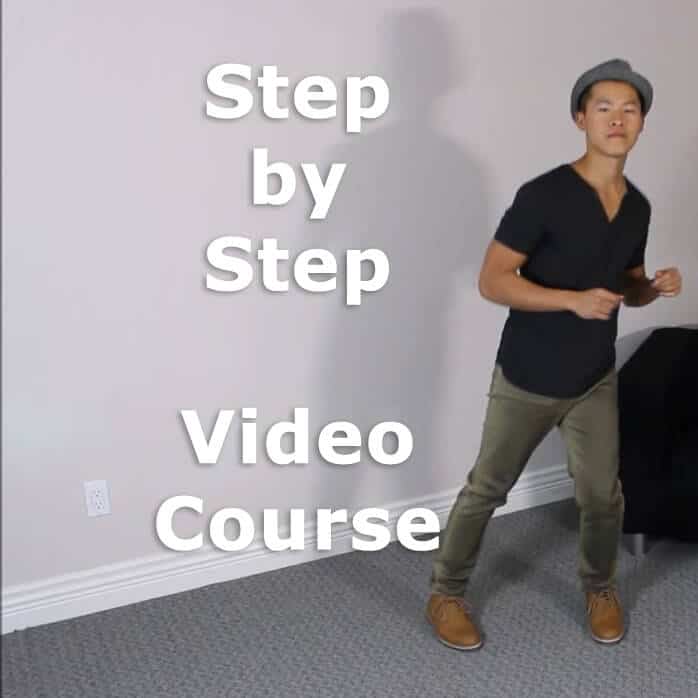 Sample Lesson from the course:
Testimonials
Course outline
Introduction:
Lesson 1: Introduction – How to use this program
Lesson 2: The secret to dance
Section 1: Rhythm exercise – Developing rhythm
Lesson 3: Introduction to gaining rhythm
Lesson 4: 8 Count segments explanation
Lesson 5: Practice counting music – Slow
Lesson 6: Rhythm exercise 4 – faster music
Lesson 7: Rhythm exercise 5 – head nod beat connection
Lesson 8: Rhythm exercise 6 – foot tap beat connection
Section 2: Day 1 – Fundamental dance movements
Lesson 9: Introduction to fundamental dance movements
Lesson 10: Stepping exercise
Lesson 11: Up bounce movement
Lesson 12: Up bounce movement practice
Lesson 13: Up bounce — Try it without guide!
Lesson 14: Knee bounce movement
Lesson 15: What to do with your arms?
Lesson 16: End of day 1 – what's coming up next
Section 3: Day 2 – Basic dance movements refresher + Step touch introduction
Lesson 17: Day 2 introduction – refresher
Lesson 18: Day 2 stepping exercise
Lesson 19: Fundamental dance step 1
Lesson 20: Step Touch – Putting movements together
Lesson 21: Step Touch PRACTICE!
Lesson 22: Day 2 – Conclusion + What's coming up next
Section 4: Day 3 – Swaying bounce
Lesson 23: Introduction to day 3 – Swaying bounce introduction
Lesson 24: Day 3 Stepping exercise + warmup
Lesson 25: Step touch review
Lesson 26: Smoothening out the step-touch
Lesson 27: Swaying bounce dance move
Lesson 28: Swaying bounce dance move practice
Lesson 29: Day 3 conclusion + What's coming up next
Section 5: Day 4 – Pivot bounce
Lesson 30: Day 4 introduction + Pivot bounce introduction
Lesson 31: Day 4 stepping exercise + Warmup
Lesson 32: Pivot bounce introduction
Lesson 33: Pivot bounce practice!
Lesson 34: Day 4 conclusion + What's coming up next
Section 6: Day 5 – Dance moves mastery!
Lesson 35: Day 5 introduction – mastering the dance moves
Lesson 36: Day 5 stepping exercise and warmup
Lesson 37: Dance move mastery – Step touch mastery
Lesson 38: Swaying bounce mastery
Lesson 39: Pivot bounce mastery
Lesson 40: Day 5 conclusion – what's coming up next
Section 7: Day 6 – Putting it all together
Lesson 41: Day 6 introduction – putting dance moves together
Lesson 42: Day 6 stepping exercise warmup
Lesson 43: All dance moves refresher
Lesson 44: How to put the dance moves together
Lesson 45: Putting dance moves together – Step touch to Pivot bounce
Lesson 46: Putting dance moves together – Pivot bounce to swaying bounce
Lesson 47: Day 6 conclusion – What's coming up next
Section 8: Day 7 – Improving dance moves and learning more variations!
Lesson 48: Day 7 introduction – Improvements and variations!
Lesson 49: Day 7 – Stepping exercise and warmup with a little surprise!
Lesson 50: Variation 1 – Turning in
Lesson 51: Variation 2 – S-T-Front
Lesson 52: Variation 3 – Hold body up!
Lesson 53: Variation 4 – Box-step movement
Lesson 54: How to put dance move variations together
Lesson 55: Arm variation – Cross n OUT!
Lesson 56: Arm variation 2 – The SNAP!
Lesson 57: Day 7 Conclusion – What to do now to continue your dance improvement journey
Section 9: BONUSES!
Lesson 58: Bonus section introduction
Lesson 59: Party dance move #1
Lesson 60: Party dance move #2
Lesson 61: How to approach the ladies on the dance floor (without rejection)?
Lesson 62: What to do when you see that people are watching you dance?
Lesson 63: What to do when a girl starts dancing up on you?
Lesson 64: 2 Awesome club-dance fashion tips
Lesson 65: How to become more comfortable on the dance floor
Lesson 66: Why it feels "forced" to dance sometimes.. and what to do about it
Lesson 67: How to improve dancing more quickly
Lesson 68: How to have fun without drugs or alcohol
Lesson 69: How to not give off the "wrong message" when dancing
Section 10: Footwork Starter-kit bonus
Lesson 70: Introduction to footwork starter kit
Lesson 71: Fast-step touch dance move
Lesson 72: Fast-step touch dance move variation 1
Lesson 73: Fast-step touch practice
Lesson 74: Jerk step dance move
Lesson 75: Jerk step variation
Lesson 76: Jerk step practice
Lesson 77: Charlestone dance move
Lesson 78: Charleston variation
Lesson 79: Charlston practice
Here is what you'll get:

– 7 modules of videos (3+ hours of instruction)
– Introduction video that explains how to use the course
– "The secret to learning to dance" training video
– Rhythm training exercises for developing rhythm
– Club Dance FAQ Bonus (7 videos)
– Footwork Starter Kit Bonus (10 videos)
– New Dancer's FAQ Bonus (6 videos)





Get Started Now:
Only $ 87.00 USD